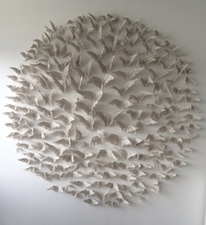 United
United is an installation that was created over a 3 year period, with several revisions (formally titled Hope). It is comprised of 180 unique hand built pairs of wall hung porcelain wings. The large wings mounted in the center radiate to the smallest wings mounted along the perimeter, lending the work a domed effect. The wings are drawn from the white dove; a symbol of peace.

When I was working on studies to explore different arrangments, I used the collage method, working with photographs of an earlier loose arrangement of the wings, I cut the wings out and created scaled down versions of two possible arrangements. I settled on the circle, but there remains the possibility of exploring other arrangements in the future that relate to the space where the work is shown. This installation is fluid and adaptable.

While printing out the photographs, my printer ran out of ink and the off color prints led to the idea of using a gelled (colored) light on the work, which then led to the idea of creating a video overlay. I decided to collaborate with a friend, Dan Lauer, who is an animator. I wanted to produce a video layered over United that spoke about the gun violence epidemic we have in this country.

I have included images of the work in priogress, as well as United with the video overlay in this section.
---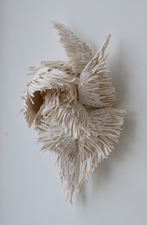 Wing Bursts
I have been working with wings since 2012, when I created the work Grounded, (a work from I Am She) which is shown here. The work is a statement about girls not being permitted to be educated in patriarchal societies. Since then I have been creating and exploring various iterations of wings, which are drawn from the white dove, a symbol of peace. Wall mounted, on a pedestal, twisted and manipulated. This is the work.