Artwork
> Feminism and Environmental Concerns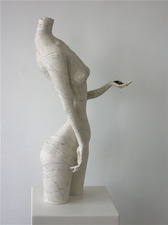 I Am She
In this exhibition, I examine issues relating to feminism past, present and future, exploring the causes of gender based violence and inequality, from both a personal and global perspective.
---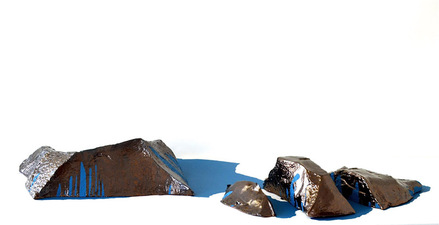 Altered Landscapes
Rocks and boulders have always intrigued me, especially those that are worn smooth by the ocean, recording their journey on their worn surface. This body of work began with photographs I had taken of large boulders that sit on the beach in Block Island. They stand strong, year after year, as sentinels to man's destruction of the earth.
The works in this series explore our natural world through an altered perspective, drawing attention to concerns of climate change, deforestation and our deteriorating environment. Employing the techniques of mold making, I slip cast sculptures I created of the rocks in my photographs, altering the perspective from landscape to wallscape, from rock to iceberg. I engage a variety of materials with clay to express various environmental concerns.