The client was interested in a wall sculpture for a large wall in her new Block Island home. We settled on a wave motif for the sculpture, echoing the ocean just outsde. This sculpture was made in 6 segments which created a wall sculpture over 6 ft. in length.
---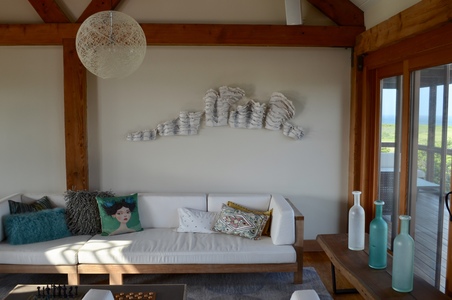 The Wave - Block Island Home - Case Study
Testimonial -
"Working with Jocelyn was wonderful. Knowing her creative genius, I knew she would turn my concept (an ocean based wall sculpture) into a thing of beauty, custom made for our this specific spot in our Block Island home. She allowed me as much creative input as I wanted…presenting different concepts, sizes, colors, etc. along the way. It was fun to have some input into the process but largely I trusted Joycelyn's instincts. The installation was seamless and fun! It was a brilliant experience from start to finish."